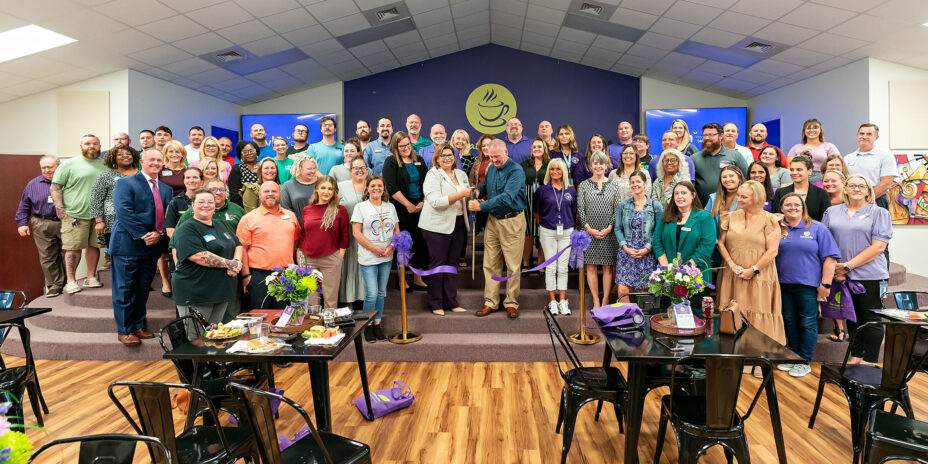 Note
This article was originally published in the Owensboro Messenger-Inquirer on Sept. 28, 2023. Click
here
to view the original post.
Community members, treatment providers and leaders came together Wednesday for RiverValley Behavioral Health's grand opening of its recovery community center, The Gathering Place.
The facility — at 400 E. Fourth St. in the former home of Church For All — will serve as "a hub of recovery resources, services and supports in a warm, inviting, café-style environment for those in our community who are coping with a substance use disorder and/or co-occurring mental illness" while also providing a "safe, sober space" for individuals to drop-in as needed to receive support and "build healthy connections to assist them on their recovery journey," RVBH officials said.
During the opening ceremony, Dr. Wanda Figueroa-Peralta, president and CEO of RVBH, said the space "marks a moment in our journey to provide a safe space for healing, the safe space for hope and recovery," while adding that creating and forming bonds with one another is a key component.
"… The most important thing that will take place (in the facility) is the connections and the fact that every person enters (the) doors knows that there is a community, their family, their friends and peer support that are (here) to support their journey," she said. "One of the things that we have learned is that recovery, even though it takes an individual to make that choice and make that decision, is not a solitary journey.
"It takes relationships, and support and (helping) protect them from harm. It takes that person to help others along the way because of what they have learned in their own journey," Figueroa-Peralta said.
Jeff Jones, RVBH's board chairman, highlighted the opportunities that the facility will create.
"It's exciting for what (the facility is) going to do for people in our community," he said. "We're extremely excited about what this is going to be for a lot of individuals for years to come."
Owensboro City Commissioner Bob Glenn shared his personal encounters while teaching at Owensboro Community & Technical College, where he observed about "a dozen people who were caught in the throes of addiction."
"In some cases, it destroyed their lives. It destroyed their potential. It destroyed their future," he said.
Glenn said Owensboro has a need for a facility like The Gathering Place.
"We talk about trying to come together as a community, and I don't know any other community beyond Owensboro, Kentucky, that is more caring and compassionate to so many of its different residents who need to be lifted up," he said. "They don't need a hand-out; they need a hand-up, and this facility provides that.
"It's a symbol of coming together as a community to battle the throes of addiction," Glenn said.
The Gathering Place will be operated by recovery and peer support specialists and will include RVBH's internal programs, outside providers, judicial system and families to promote participation and engagement.
The facility will also serve as a space for support groups like Alcoholics Anonymous, Narcotics Anonymous and Self-Management and Recovery Training (SMART), along with acting as a multi-purpose space for events like recovery celebrations, information and awareness sessions, guest speakers and more.
The Gathering Place is funded by a $600,000 grant from the Kentucky Department for Behavioral Health, Developmental and Intellectual Disabilities, and is the first of its kind in Daviess County.
It will be open seven days a week from 8 a.m. to 8 p.m. starting today, Sept. 28.
Published on October 3, 2023