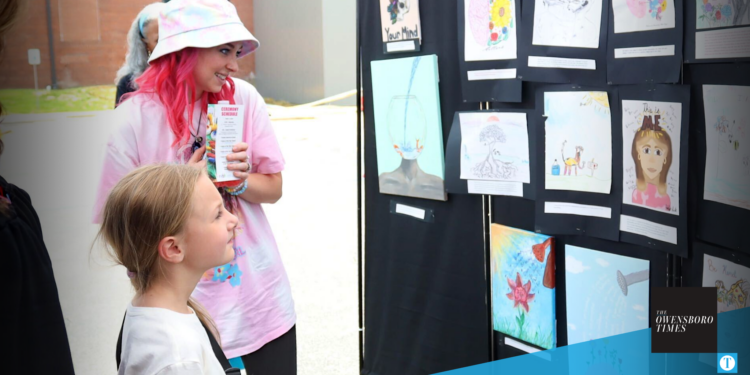 Note:
This article was originally published in the Owensboro Times on 6/29/23. Click
here
to view.
RiverValley Behavioral Health on Wednesday announced the winners of its 3rd annual Youth Mental Health Art Contest, which received nearly 600 submissions.
The submissions this year were a new high, with officials saying they are thankful to see continued interest year after year.
"Each year, we are continually impressed with the talent and thoughtfulness of the youth and young adults in our communities through this art contest, and this year is no different," said Brooke Arnold, RVBH Regional Prevention Center Director.
On Wednesday, RVBH crowned nearly 20 winners and, for the first time, announced the Dianne McFarling Memorial Award nominees.
The winners are as follows:
Kindergarten Grade Level Winner: Hattie Danhauer – John Paull II Catholic School
1st Grade Level Winner: Sutton White – John Paull II Catholic School
2nd Grade Level Winner: Henleigh Parker – Dixon Elementary
3rd Grade Level Winner: Olivia Clark – John Paul Il
4th Grade Level Winner: Athena Johnson – Dixon Elementary
Project of the Year for K-4 Division: Olivia Clark/Matching Contribution – John Paul lI
5th Grade Level Winner: Eliza Johns – Sturgis Elementary
6th Grade Level Winner: Lilly Dunbar – Providence Elementary
7th Grade Level Winner: Hayden Lehecka – Owensboro Innovation
8th Grade Level Winner: Abbigail Massey – Mclean Co. Middle School
Project of the Year for 5-8 Division: Hayden Lehecka/Matching Contribution – Owensboro Innovation Academy
9th Grade Level Winner: Chloe Mayes – Union County High
10th Grade Level Winner: Haylea Lehecka – Owensboro Innovation
11th Grade Level Winner: McKenna Russin – Henderson County High
12th Grade Level Winner: Paulie Frashure – Apollo High
Project of the Year for Division 9-12: McKenna Russin/Matching Contribution – Henderson County High
Project of the Year College Division: Miranda Blakeman/Matching Contribution – OCTC
Mental Health Partner of the Year: John Paul II Catholic School
The Dianne McFarling Memorial Award honors an individual, organization, school, business, etc., that has demonstrated a dedication to improving mental health in the community.
The award went to Caleb Potter, Grief Counselor for Hospice & Palliative Care of Western Kentucky. He was nominated alongside the following:
Donna Bumpus: Former RVBH Board Member and Active Mental Health Advocate
Nicki Feher: RVBH Vice President of Nursing and Provider Services
Jennifer Hamilton: Suicide Prevention Counselor for the U.S. Veterans Administration Owensboro Community & Technical College Choir
Jenni Smith: Manager for Owensboro Health's Behavioral Health Unit
Sandy Webster: Executive Director for Dream Riders
Published on July 18, 2023