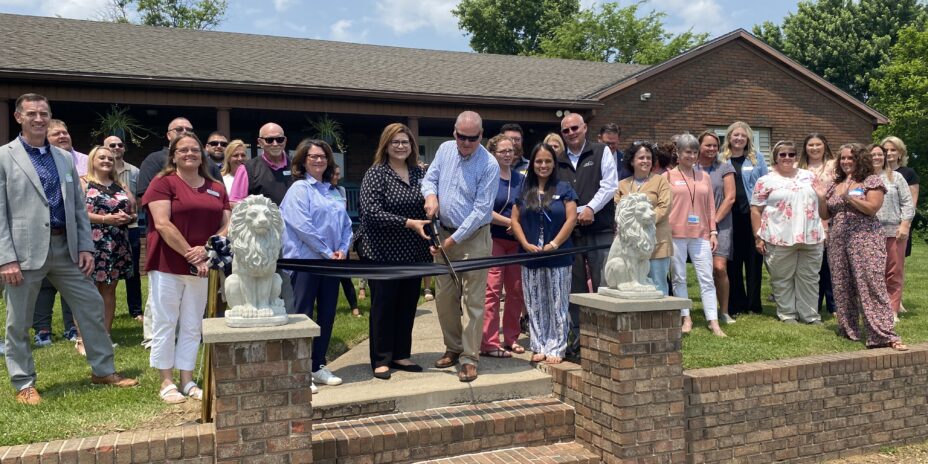 Note:
This article was originally published in the Owensboro Messenger-Inquirer on 5/26/23. Click
here
to view.
RiverValley Behavioral Health hosted a grand opening and open house Thursday for The Onyx Center, a 16-bed residential alcohol and substance use recovery center for men.
The facility will assist those seeking recovery in developing a healthy, productive, alcohol and substance-free life, providing gender-specific treatment in a nature-filled environment.
"We understand the power of nature as a reminder of renewal … self-reflection, cultivation and growth," said Dr. Wanda Figueroa-Peralta, president and CEO of RVBH. "Those are elements that are very important in recovery. This is a 24/7 supervised residential (facility) that is composed of a team of nurses, therapists and peer support specialists."
Substance use and mental health has been a problem across Daviess County and the nation at large, with the need for such a facility continually growing.
"It's important that we expand services, but also that those services fuel recovery, that help individuals sustain recovery after they complete treatment." Figueroa-Peralta said. "RiverValley has decided to open residential substance abuse treatment centers in retreat-like environments so (clients) can be away from the triggers that can induce addiction and substance use."
The Onyx Center will strive to work in close collaboration with several community centers and community leaders to create a supportive network for individuals.
The center will provide individualized counseling and treatment plans that combat triggers that prompted those to abuse substances. More specifically, clients will receive an evaluation of medical, physical, psychological, family and social wellbeing, an individualized treatment plan, alcohol and drug prevention education, case management, peer support, orientation and involvement in recovery programs, individual and group therapy sessions, relapse management and prevention, referral to the Medication Assisted Treatment program and one year of extended aftercare and support.
"Substance use is always a sign of underlying mental health issues." Figueroa-Peralta said. "It's a breakdown of your health, so it's important that we look at those factors. (Treatments include) yoga, life skills that are connected with employment when they are ready to complete treatment, and they receive at least one year of after care, which is very important."
To enroll in the Onyx Center, individuals can go to the RiverValley Behavioral Health website (www.rvbh.com). Those in a dire situation can dial 988 if they are experiencing a crisis. The will immediately be assigned to a counselor at the center and will be allowed to enter the program.
"We see gemstones and celebrate them after the fact, after they are purified through trial and through the testing of nature." Figueroa-Peralta said. "That's why it was so significant for our centers to use gemstones as a part of that. The purification, the cycle of life into something that is then beautiful and desired."
RiverValley Behavioral Health has already opened The Amethyst Center, a 16-bed recovery center for women and new mothers, with The Onyx Center expanding that opportunity of recovery for men.
"This is just another milestone, but we're not stopping here." Figueroa-Peralta said. "The need is there, so we plan to expand more services and continue partnering with other community providers to help people get access to the healthcare they need."
Published on May 30, 2023