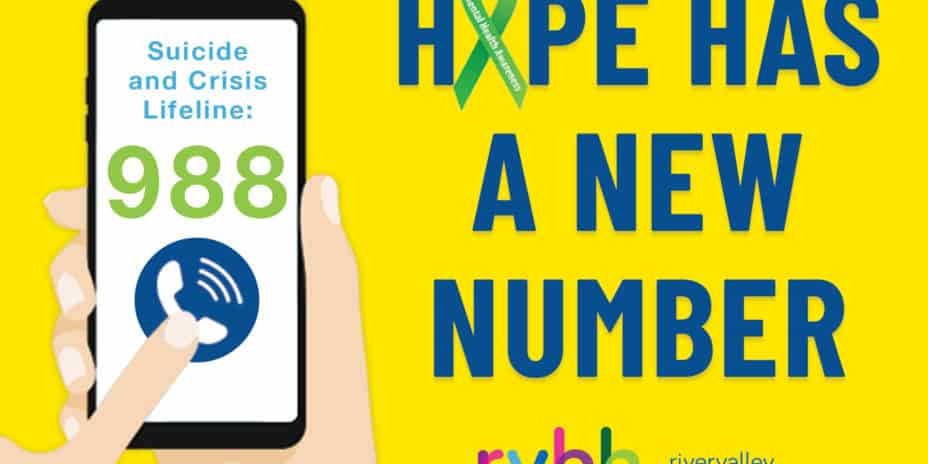 OWENSBORO – May 5, 2023
May is Mental Health Awareness Month, and throughout this month each year, RiverValley strives to decrease stigmas surrounding mental illness by sharing essential resources for mental wellbeing and encouraging people to seek help when they need it.
That goal is the foundation for our Mental Health Awareness Month campaign this year – Hope Has a New Number.
Research shows that mental illness is common in the United States, affecting tens of millions of people each year. It is estimated that more than one in five U.S. adults live with a mental illness, and only about half of affected individuals seek treatment, according to the National Institute of Mental Health. Many individuals faced with mental illness typically do not seek out treatment due to shame, stigma, and fear surrounding mental health concerns, in addition to other barriers, such as accessibility and financial stability.
Mental Health Awareness Month is an opportunity for us to transform the understanding and treatment of mental illness by providing hope, support, and access to resources and education that empower our community members to make mental health a priority.
The vital 988 Suicide & Crisis Lifeline launched nationwide in July 2022, and our aim is that, through our "Hope Has New Number" campaign, we can instill hope in our communities in knowing that help is just a simple three-digit phone call away.
"We want everyone in our communities to know that 'Hope Has a New Number' – it's 988," said Dr. Wanda Figueroa-Peralta, RVBH President & CEO. "Talking about mental health and opening a line of communication encourages others to do the same. Whether we share resources, encourage our loved ones to seek help, or are simply there for someone when they need us, we can work collectively towards breaking the stigma surrounding mental health."
If you or a loved one are experiencing a mental health or substance use crisis, the National Suicide & Crisis Lifeline can be reached 24/7 by calling 988.
Published on May 10, 2023