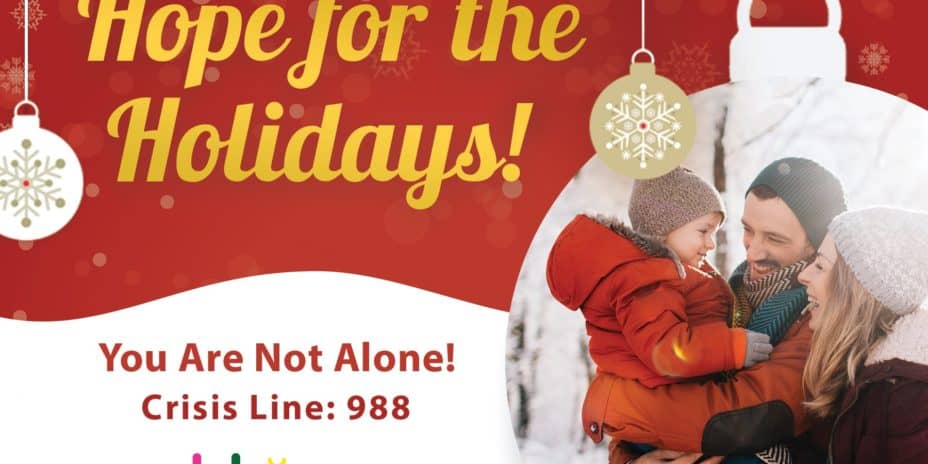 Note
This article is from Owensboro Messenger-Inquirer on November 26, 2022. See the original post
here
.
RiverValley Behavioral Health looks to help combat mental health concerns with its "Hope for the Holidays" campaign starting in December.
The campaign will offer free Mental Health First Aid (MHFA) training throughout Daviess, Henderson, Ohio, Union and Webster counties until January to help with "mitigating depression and mental health crises" during the holiday season.
Dr. Wanda Figueroa-Peralta, RVBH president and CEO, said RVBH began offering MHFA training, an evidence-based training course administered by the National Council for Mental Wellbeing, previously with schools and faith-based communities before helping community members navigate through COVID.
Figueroa-Peralta said over 1,000 have been MHFA-trained throughout the seven counties that the organization serves and thought it was an ideal time to offer the service.
"We wanted to continue expanding the program because it's very effective and it's very important, especially now," she said. "We couldn't think of a better time to continue and expand … than the holidays."
While the holidays can be a time for enjoyment for some, others may be experiencing some difficulties such as feelings of anxiety, depression, grief, loneliness and stress.
Others may be coping with the loss of a loved one, experiencing seasonal depression, substance or alcohol use, chronic health conditions, financial strain, loss of job or other concerns.
"During the holidays, people get together. It's about celebration, it's about community, you see family members (and friends) that you have not seen for a while," Figueroa-Peralta said. "It's an opportunity to connect with people, but also to observe any changes."
Figueroa-Peralta said people may not know how to approach someone that seems to need help or may be self-isolating and the training will help people provide aid to those in need while also able to connect them with vital resources.
"You want to be equipped in how to deal with that; how to recognize signs and what to do," she said.
Figueroa-Peralta said the training has been beneficial for all parties involved.
"Many people who attend the training, one of the first things that they have shared is like, 'I did not know I even had the symptoms that I needed to take care of, and I was afraid to ask.' " she said. "They came for others, but (it) actually helped them deal with their own feelings and how to seek help and resources to address those feelings."
Trainings will be from 8 a.m. to 4:30 p.m. at the following locations:
Henderson County: Tuesday, Dec. 13 at The Port, 455 Klutey Park Plaza Dr. in Henderson for adults wishing to learn about aiding adults.
Union County: Tuesday, Dec. 20 at the Union County Extension Office, 1938 Kentucky Highway 60 W in Morganfield for adults wishing to learn about aiding adults.
Webster County: Thursday, Jan. 5 at the Webster County Extension Office, 1118 Kentucky Highway 41-A in South Dixon for adults wishing to learn about aiding youth.
Ohio County: Thursday, Jan. 19 at the Ohio County Extension Office, 1337 Clay St. in Hartford for adults wishing to learn about aiding youth.
Daviess County: Friday, Jan. 27 at First Christian Church, 700 J R Miller Blvd. in Owensboro for adults wishing to learn about aiding adults.
Food and refreshments will be provided at each training. Participants who register will also be entered into a gift card raffle.
To register for a training session, visit bit.ly/3Xoji43.
Published on February 7, 2023