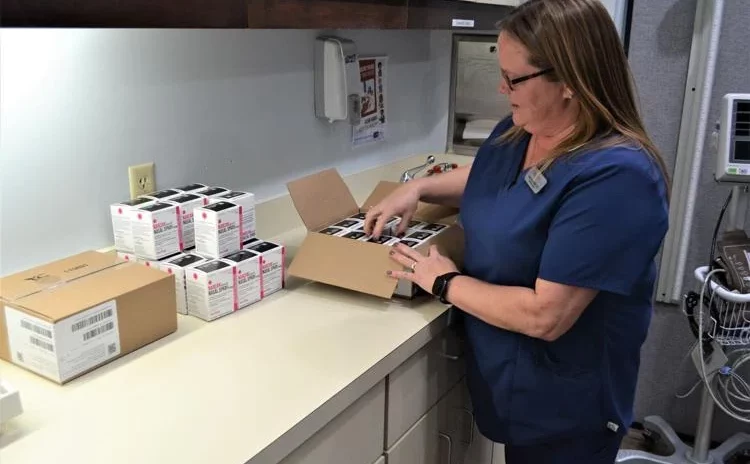 Note
This article is from Owensboro Messenger-Inquirer on January 5, 2023. See the original post 
here
.
RiverValley Behavioral Health will be giving away 220 doses of Narcan nasal spray from noon to 3 p.m. Monday, Jan. 23 at its facility, 1100 Walnut St.
The giveaway will be through RVBH's medication-assisted treatment (MAT) program, with the doses being provided by the Kentucky Opioid Response Effort (KORE).
According to RVBH's press release, Narcan is a "life-saving medication that can reverse the effects of an opioid overdose and save lives" and has been used "safely and effectively by emergency medical services for decades."
Nicki Feher, BSN, RN, CCBHC project director and RVBH's clinical office manager, helped with creating the MAT program, which launched in 2021. She said this will be the first time the organization will be doing the giveaway.
The U.S. Food and Drug Administration has described MAT as the use of medications in combination with counseling and behavioral therapies, which is effective in the treatment of opioid use disorders (OUD) and can help some people sustain their recovery.
Feher said both the event and the MAT program are necessary for the community.
"I know just starting the MAT program was eye-opening to me," she said. "I've lived in Owensboro my entire life, and I had no idea the need for the program. …The more we (heard) and as the year kept going, there were so many episodes of accidental overdose or (going) to the hospital with an overdose; things that could have been avoided …"
According to the Centers for Disease Control & Prevention, 75% of the 107,622 drug overdose deaths recorded in 2021 involved an opioid, a 15% increase from 2020.
Since launching the MAT program, Feher said they've done about 100 intakes and currently have 38 patients in the program.
Feher said people may not feel ready to join the MAT program and seek help but feels the Narcan giveaway can help those who are struggling and get them started on the right path.
"…If we can save one person by putting this out there, even if they're not ready (but) have this in their pocket, that makes all the difference in the world," she said. "This one nasal spray can be the difference between life and death in a matter of minutes."
"There's been an increase in accidental overdoses," said Megan Phillips, psychiatric nurse practitioner and provider for the MAT program, "and being able to have this on-hand (can help) in those circumstances as well."
Feher's goal with the giveaway is to "run out" of the supply.
"I hope that enough people come," she said.
And Feher said the giveaway is not limited to people with addiction.
"If you have a loved one or a friend that you're worried (about), I want you to have this in your pocket," she said. "I want you to help them because it's a lot to hold onto when you couldn't."
The program will also serve as a way for the community to know of RVBH's presence and the number of programs and services it offers beyond MAT.
"When you walk in, you have a team that is taking care of you," Feher said. "We want to make sure that the community knows we're here … and we want to make sure they know we're here to help."
Each person will receive two Narcan doses, which will be given out on a first come, first served basis.
Doses can be picked up inside the front entrance of the building on Walnut Street, above the stairway.
For more information or to ask questions, call 270-689-6690.
Published on February 7, 2023