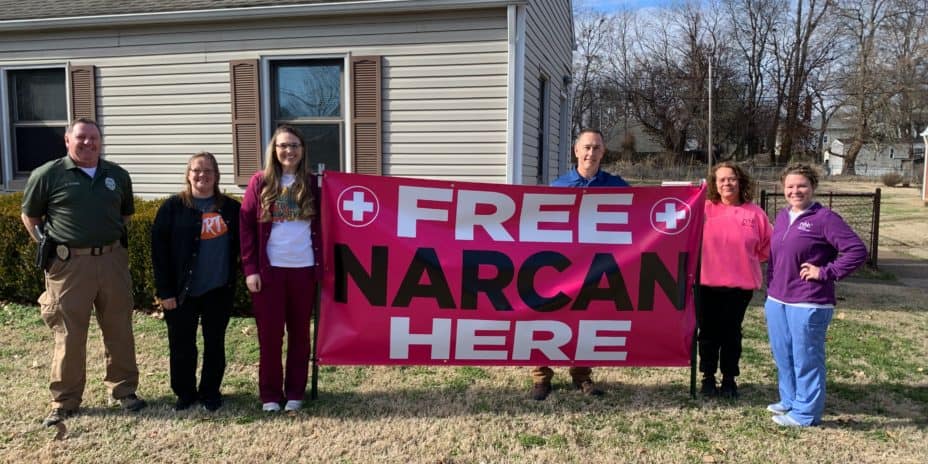 As a result of the need for Narcan Nasal Spray that we have seen in our communities following our giveaway on Jan. 23, RiverValley Behavioral Health's Medication Assisted Therapy (MAT) program will hand out another 200 doses in Henderson County on Friday, Jan. 27, 2023.
Narcan is a life-saving medication that can reverse the effects of an opioid overdose and save lives. The medication has been used safely and effectively by emergency medical services for decades.
Opioids are highly addictive and anyone who takes prescription opioids is at risk for developing a substance use disorder. In fact, as many as 1-in-4 patients receiving long-term opioid therapy in a primary care setting struggle with opioid addiction, with approximately 10.1 million individuals having misused a prescription opioid in the last year, according to the U.S. Department of Health & Human Services.
According to the National Center for Drug Abuse Statistics, 96,779 drug overdose deaths were reported from March 2020 to March 2021 with fatality rates during this period increasing by 36.1% from the previous annual high recorded between December 2018 to December 2019.
Additionally, according to the U.S. Centers for Disease Control & Prevention, Kentucky was recorded as having the second highest drug overdose death rate in the nation in 2020, with an increase in overdose related deaths in Henderson County throughout recent months.
According to the Henderson County Police Department, there have been 10 instances of overdose this month alone in the community, three of which resulted in a fatality.
Equipping our community with Narcan may help reduce the number of overdoses in the communities we serve and provide access to lifesaving medications for those who need it.
RVBH started its Medication Assisted Treatment program in 2020 to respond to the need in our local communities to assist in the fight against the Opioid Epidemic that is growing daily. The MAT Program is an evidence-based program that combines the use of medication and behavioral therapy to treat substance use disorders.
"This giveaway is just one way we can provide easy access to lifesaving measures within our communities. RiverValley's MAT program will continue to explore opportunities to help prevent the devastation caused by the Opioid Epidemic," said Nicki Feher, RN and RVBH Clinical Office Manager. "Our goal is to provide the necessary education and preventative measures to help those in our community who are affected by opioid use know that recovery is possible and we are here to help."
This project is supported by the Kentucky Opioid Response Effort (KORE) through a Substance Abuse and Mental Health Services Administration (SAMHSA) Grant.
The giveaway will take place at 341 South Adams Street in Henderson starting at noon.
"During the Narcan giveaway in Daviess County, we were able to place this lifesaving medication in the hands of our community members, giving away a total of 148 doses of Narcan Nasal Spray on Monday," said RVBH President & CEO Dr. Wanda Figueroa-Peralta. "Due to the need we have seen in our communities; we have decided to extend this giveaway to include Henderson County. Drug overdoses are ravaging our communities and we must do everything we can to save lives and expand treatment. "
For more information about MAT services, please call 270-689-6690. If you are experiencing a mental health or substance use crisis, call or text 988.
For medical emergencies or if you suspect you or someone you know may be experiencing an overdose, call 911 immediately.
Published on February 7, 2023