It's perfectly normal to have moments of anxiety before a big test at school, over problems at home, or because of issues with friends. Especially when something unexpected or beyond our control happens. But when those fears and worries keep growing or are not going away, that stress could be causing a treatable anxiety disorder.
The good news is there are ways to alleviate anxiety, and we can help you. At RiverValley, we can diagnose and treat the causes of anxiety so your life feels manageable again.
Here are a few ways we can help: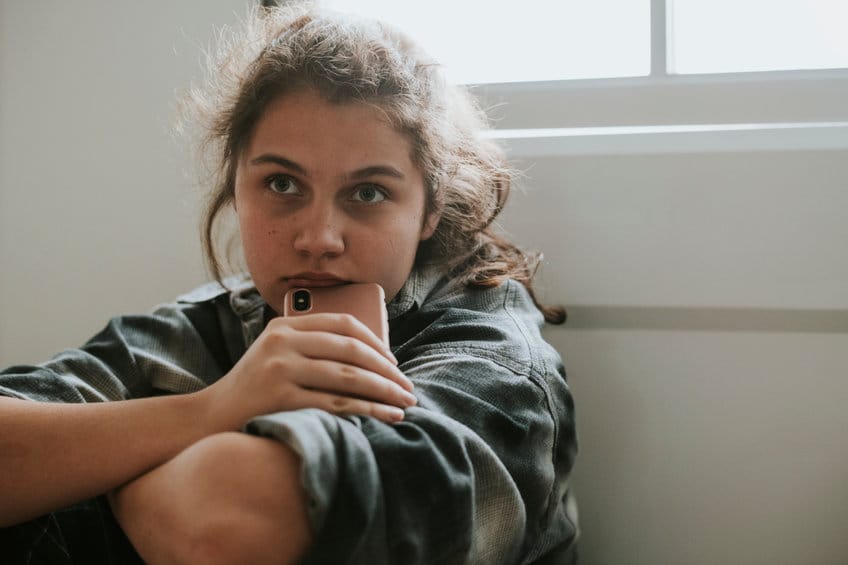 Crisis & Information Line
RiverValley offers a free and anonymous call line for individuals in any type of crisis. This line can also be accessed via text and chat through RVBH's web portal and is staffed around the clock with trained crisis call technicians to promptly address client needs.
RVBH Hospital Outpatient Clinic
RiverValley's Children's Hospital (RVBH-H) is a not-for-profit psychiatric hospital located in Owensboro, KY, designed to provide specialty inpatient services for children and teens ages 5-17. Once they're admitted, patients receive multiple services to diagnose, treat, and stabilize mental or behavioral health issues in a safe, structured environment while continuing with one-on-one and group counseling, recreational therapy, and medication management during their stay. RVBH-H also houses its own accredited school, gym, and extensive activity areas for recreation.
Acute Hospitalization
RiverValley's acute care services cater to youth ages 3-18 as a short-term crisis stabilization center. Hospitalization allows qualified staff members the ability to formulate a customized treatment plan for youth who may be a harm to themselves or others around them.
Intellectual and Developmental Disabilities Crisis Services (IDD Crisis Services)
Crisis situations can happen to anyone at any time. For mental health emergencies, RiverValley Behavioral Health offers round-the-clock access to IDD staff who are available to support the individual through a crisis and reduce risk.
Mobile Crisis Team (MCT)
For individuals in a mental health or substance use related crisis that can't get to RiverValley, a Mobile Crisis Team is ready to respond 24/7, 365 days a year. Our MCT is a highly trained team of clinicians, case managers, and peer support professionals that can assess, triage, and provide emergency services for all ages.
Outpatient Mental Health
Outpatient simply refers to receiving treatment without being admitted into a hospital, usually within a clinic or office setting. To better serve our community, RiverValley has offices in almost every county in our region so we can offer counseling, evaluation, and a variety of services for all ages and issues close to home.
Outpatient Physician's Clinic
Outpatient simply refers to receiving treatment without being admitted into a hospital, usually within a clinic or office setting. To better meet the behavioral health needs for all ages in our community, specialized RiverValley staff provides in-person and telehealth (over computer) services in almost every county in our region including medical and emergency evaluations, hospital follow-up care, and consultation.
Psychiatric Residential Treatment Facility (PRTF)
RiverValley also offers a smaller residential facility designed specifically for boys 12-17 who are experiencing mental health issues that don't require hospitalization. Located in Owensboro, this 9-bed facility provides a nurturing environment with all the feels of home while the client receives care. The goal of PRTF is to help the child achieve their full potential for emotional well-being, see positive growth, and become active in the community again.
Intensive in-Home/Therapy Services (IIH)
Unlike traditional mental health services, IIH is administered in the client's home instead of an office visit. Over the course of 6-18 weeks, RiverValley staff comes to the family's home to provide services targeting four main areas: parenting education, relationship issues, family meeting facilitation, and group or individual counseling.
Therapeutic Community Support Services (TCSS)
TCSS are best described as an extension of counseling in the community or home setting where RiverValley's trained professionals help clients develop new ways of thinking and acting so they can fulfill their needs in a more effective way. Through TCSS, services are provided on a personal level weekly for up to 6 months.
Children's Targeted Case Management (TCM)
RiverValley provides targeted case management for children and teens ages 3-18 who have been diagnosed with a severe emotional disability. These services are provided to assist the child in receiving the medical, educational, and social support services they need to develop self-sufficiency and promote independence.
HI-Fidelity Wrap Around Services (Hi-Fi)
Designed for families involved with DCBS who have children diagnosed with a severe emotional disability, Hi-Fi services help reduce or eliminate the need for out-of-home placement so that children have a consistent environment by staying in their homes, schools, and communities. Hi-fi services develop individualized plans that are family-driven and youth-guided to meet their needs, achieve positive outcomes, and see an overall improvement in their lives.